by Ameya Kulkani and Marina Holder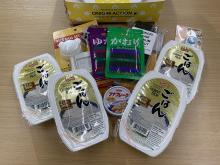 For the second consecutive year, the non-profit organization Table for Two visited ASU and hosted a workshop focused on making a Japanese staple food, onigiri (rice balls), and promoting awareness of global food imbalances, hunger, and health issues. The workshop, entitled Onigiri Action, was organized and hosted by ASU Japanese lecturer, Kumiko Hirano Gahan, and involved over 25 ASU students of Japanese language and culture, who gathered in Durham Hall 240 to learn about social issues and make some tasty food.
As stated by Ms. Mayumi Uejima-Carr, the President of Table for Two USA, Table for Two is a non-profit organization that focuses on food education and providing meals to children around the world. The program Onigiri Action meets five of the UN's seventeen Sustainable Development Goals, which include eliminating poverty and hunger, improving education, and reducing inequality. For World Food Day, Table for Two hosted a variety of events to promote these issues for the month. For example, for every creative piece of onigiri posted on social media with the hashtag #OnigiriAction, the organization donated five meals to children in need. 
---
"We chose onigiri as the symbol of the campaign because it's the symbol of love and care in Japan"
- Ms. Gahan and Ms. Uejima-Carr
---
This workshop also taught the participants about making informed decisions about nutrition and how to make healthy foods quickly and easily. Onigiri, the focus of the workshop, are Japanese rice balls made with rice, seaweed, and various fillings ranging from tuna and mayonnaise to pickled plum (umeboshi). Ms. Gahan and Ms. Uejima-Carr, who hosted the event, said, "We chose onigiri as the symbol of the campaign because it's the symbol of love and care in Japan. Onigiri is something you can make with your own hands, and many Japanese people have memories of making onigiri. Very comforting and warm-feeling food. Onigiri is one of Japan's oldest foods, so it's deeply rooted in the history of Japan's food culture. Rice is available in almost any country, so onigiri is something anyone can easily make."
Ms. Uejima-Carr and Table for Two USA are also excited to see other Arizona universities, community colleges, and high schools starting to participate in such activities. As she remarked, "Many schools and classes learning about Japanese culture do this Onigiri Action as part of their classroom activities. They learn about Japanese food and language and take action." With the participation of so many schools and students, Table for Two also gets involved in community service projects with these students.
All in all, 2021's Onigiri Action workshop provided a great opportunity to learn about Japanese food and culture while thinking about the greater applications of being able to make and provide nutritious food for those in need. Take part in 2022 and add something new to your personal cookbook!
About the authors: Ameya Kulkarni and Marina Holder are Barrett Honors students and interns at the Center for Asian Research. They had participated in the OnigiriAction workshop in November 2021.